Composition and biological significance of the human Nα-terminal acetyltransferases
BMC Proceedings
2009
3(Suppl 6):S3
Abstract
Protein Nα-terminal acetylation is one of the most common protein modifications in eukaryotic cells, occurring on approximately 80% of soluble human proteins. An increasing number of studies links Nα-terminal acetylation to cell differentiation, cell cycle, cell survival, and cancer. Thus, Nα-terminal acetylation is an essential modification for normal cell function in humans. Still, little is known about the functional role of Nα-terminal acetylation. Recently, the three major human N-acetyltransferase complexes, hNatA, hNatB and hNatC, were identified and characterized. We here summarize the identified N-terminal acetyltransferase complexes in humans, and we review the biological studies on Nα-terminal acetylation in humans and other higher eukaryotes.
Keywords
Papillary Thyroid Carcinoma
Auxiliary Subunit
Thyroid Cell Line
Burkitt Lymphoma Cell Line
Knockdown Phenotype
Background
The importance of Nα-terminal acetylation in human cell biology and disease has been increasingly recognized. During the last five years, the major human Nα-acetyltransferase complexes (NAT) have been identified and characterized. In humans as in yeast, three NAT complexes are believed to perform most Nα-acetylations, namely the human NatA, NatB and NatC complexes (hNatA, hNatB, and hNatC) [1–4]. In addition, a potential hNatE complex has been described [5–7]. A number of studies have described various aspects of Nα-terminal acetylation in humans, such as substrates, NAT knockdown phenotypes, and expression patterns of NAT subunits. Through these studies, a complex and specific system of Nα-terminal acetylation has been revealed. This system is to a large extent conserved from yeast. Still, little is known about the function and regulation of the system, and of the specific mechanisms through which phenotypes are mediated. In this review we give a comprehensive overview of the knowledge of co-translational Nα-terminal acetylation in humans and other higher eukaryotes.
The human NatA complex
The NatA complex is the most thoroughly studied of the three major NAT complexes in higher eukaryotes. The NatA complex is believed to be the major NAT complex both in humans and in yeast: the number of potential hNatA substrates is high as compared to human NatB and human NatC (hNatB and hNatC). Also, the phenotypes resulting from hNatA knockdown appears to be slightly more severe than those observed for hNatB and hNatC knockdown [3, 4, 8].
The human NatB complex
The human NatB complex (hNatB) was recently identified [3, 45]. It is composed of the catalytic subunit hNaa20p (hNAT3), and the auxiliary subunit hNaa25p (hMDM20). This complex is conserved from yeast both with respect to subunit composition and substrate specificity.
Both subunits are found in the cytoplasm, where they are present both in a ribosome-bound and a non-ribosomal form. The substantial amount of hNaa20p and hNaa25p present in the non-polyribosomal fraction indicates that these proteins dynamically interact with the ribosome and/or have other functions independent of ribosome binding [3].
Composition of the hNatB complex
hNaa20p
hNaa20p has a theoretical molecular mass of 20.4 kDa, and contains a conserved acetyltransferase domain. hNaa20p localizes to both cytoplasm and nucleus, and it is homologous to the yeast NatB catalytic subunit yNaa20p [3].
hNaa25p
hNaa25p has a theoretical molecular mass of 112.3 kDa. It has been predicted to contain two globular domains, a TPR-region, and a nuclear localization signal. Even so, hNaa25p has a cytoplasmic localization, and it has not been observed in the nucleus. The hNaa25p protein shares 20.4% and 92.9% sequence identity with its yeast and mouse homologues, respectively, indicating a high degree of evolutionary conservation within higher eukaryotes, and a moderate degree of sequence conservation from yeast to human [3].
Substrates of hNatB
The hNatB complex was found to in vitro acetylate a peptide with an MDEL N-terminus [3]. This represents the N-terminus of the NF-κB subunit p65. p65 is also in vivo acetylated in HeLa cells [9]. Indeed, the identification of many acetylated Met-acidic N-termini in a large scale proteomics analysis [9], including the MDEL N-terminus, suggest that this activity is dependent on the hNatB complex. As the yNatB is known to acetylate methionines that are followed by an acidic residue, the acetylation of the MDEL-peptide supports a conservation of substrate specificity of NatB from yeast to man [46].
Knockdown of hNatB induces cell cycle arrest
Knockdown of hNatB subunits inhibits cell growth and proliferation, and disturbs cell cycle progression. Knockdown of h
NAA20
leads to G
0
/G
1
arrest, and an increase in the level of p21 (as summarized in Figure
3
). Knockdown of h
NAA25
leads to cell death, a decrease in G
0
/G
1
cells, and a decrease in p21 levels. Also, a decrease in hNaa20p levels was observed after h
NAA25
knockdown, indicating that hNaa25p is needed for hNaa20p stability [
3
]. This also implicates that h
NAA25
phenotypes will include h
NAA20
phenotypes. The change in p21 levels indicate that at least some of the effects of hNatB knockdown are mediated through p21, which is a known inhibitor of traverse through the G
1
-phase [
47
]. The seemingly contradictory effects of h
NAA20
and h
NAA25
knockdown can be the result of complex downstream mechanisms for the hNatB. Elevated levels of p21 may inhibit the induction of apoptosis while in some cases it is known that preventing induction of p21 is necessary to induce apoptosis [
48
]. Thus, the p21 level may explain why we detect cell death when analysing the h
NAA25
knockdown cells, while no significant levels of apoptosis are detected for h
NAA20
knockdown cells. The differences in phenotypes could also indicate that one or both hNatB subunits may have individual functions in addition to those of the hNaa20p-hNaa25p complex. The observation that h
NAA20
knockdown leads to cell cycle arrest was also confirmed in other studies [
45
]. Further information regarding hNatB can be found elsewhere in this supplement [
49
].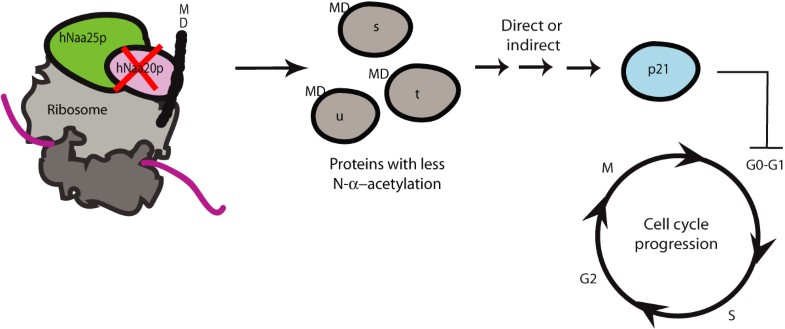 The human NatC complex
The human NatC complex (hNatC) was recently described. It consists of the catalytic subunit hNaa30p (hMak3), and the auxiliary subunits hNaa35p (hMak10) and hNaa38p (hMak31) [4].
hNatC is conserved from yeast to man both with respect to subunit composition, and substrate specificity, as is also the case with hNatA and hNatB. hNaa30p and hNaa35p localize almost exclusively to the cytoplasm while hNaa38p also localizes to the nucleus. In the cytoplasm, all three subunits are found both in a ribosome-bound and a non-ribosomal form. This supports a model where the hNatC complex co-translationally acetylates nascent polypeptides. As the subunits are present also in a non-ribosome-bound form, they may dynamically interact with ribosomes, and/or have functions independent of ribosomal binding as also suggested for the hNatA and hNatB subunits [4].
Composition of the hNatC complex
hNaa30p
The Nα-acetyltransferase hNaa30p (hMak3) (GeneID 122830) is a protein with theoretical molecular weight of 39.3 kDa. hNaa30p acetylates peptides with N-termini MLALI, MLGTG and MLGTE [4]. This substrate specificity is similar to that observed for yNaa30p, thus Naa30p is evolutionary conserved in eukaryotes. Also, these in vitro experiments showed that hNaa30p was enzymatically active without being associated with hNaa35p and hNaa38p, showing that the substrate specificity of hNatC is at least partly contained within the catalytic subunit itself. Pesaresi and co-workers demonstrated that the A. thaliana Naa30p (AtNat30p) alone was able to functionally replace the yeast NatC complex. Also, in contrast to AtNaa30p, knockout of AtNaa35p alone did not result in any obvious defects [50]. This indicates that Naa30p may have functions independently of the NatC complex in higher organisms than yeast.
Interestingly, hNaa30p (362 amino acids) is considerably larger than its yeast homolog (176 amino acids). This is mainly due to an additional N-terminal region of hNaa30p. Similarly, the A. thaliana Naa30p also contains additional residues as compared to yeast Naa30p, and AtNaa30p displayed enzymatic activity independently of AtNaa35p [50]. The function of this N-terminal domain hNaa30p domain is unclear, but it contains several potential phosphorylation sites, making it a possible region for posttranslational regulation of hNaa30p activity, as was observed for hNaa10p [16].
hNaa35p
hNaa35p (hMak10) is the human homologue of the yeast NatC subunit yNaa35p (yMak10p). The experimentally described hNAA35 differed from the predicted sequence available at Entrez in that a splice event had taken place resulting in the loss of nucleotides 1465–1704 as compared to the predicted sequence [4].
The rat NAA35 homologue was identified as a novel gene upregulated in the healing corneal epithelium. Its expression correlated with reepithelialization of cornea and maturation of the cornea and skin suggesting the role of this gene in epithelial development, differentiation, and wound healing [51].
hNaa38p
hNaa38p (hMak31, LSMD1) is the human homologue of yeast NatC subunit yNaa38p (yMak31p). hNaa38p is a member of the Sm and Sm-like proteins which associate with RNA and are involved in RNA-processing event. As hNaa38p is also found in the nucleus, it may have a nuclear role in RNA processing independent of the hNatC complex [4]. It is puzzling why an Sm-like protein is a part of the NatC complex. One could picture a model where the RNA-binding capacities of hNaa38p participate in the interaction between the NatC complex and factors in the translation process. An interesting question in such a scenario is why only the hNatC complex contains this factor (or indeed, why the three NAT complexes differ in their auxiliary subunits). Do the auxiliary subunits of the NAT complexes mediate complex-specific anchoring to the ribosome? The question of how the NATs are associated with the ribosome is exciting. Answering this will be important to fully understand how Nα-terminal acetylation is facilitated.
hNatC substrates
Nα-terminal acetylation and myristoylation facilitate membrane association for several types of GTPases [52]. It was recently shown that the human Arf-like GTPase Arl8b (hArl8b) depended on its acetylated N-terminus for proper lysosomal association [53]. The N-terminal sequence of hArl8b is MLAL, matching the substrate specificity of the NatC complex from yeast: methionine followed by a hydrophobic amino acid residue [7]. Thus, hArl8b is a potential hNatC substrate. Indeed hNaa30p acetylates an MLAL N-terminus in vitro. Also, hNAA30 knockdown leads to aberrant lysosomal targeting of hArl8b [4]. This points to a direct link between hNatC mediated Nα-terminal acetylation and proper functional localization of hArl8b. Another human protein of which the acetylation of the N-terminus by hNatC may be functionally important is the human GTPase Arf-related protein 1 (ARFRP1). ARFRP1 depends on its N-terminal acetylation for proper Golgi association and its N-terminus matches NatC substrate requirements [54].
Another important potential hNatC substrate is the protein kinase mammalian Target Of Rapamycin (mTOR). Wenzlau and colleagues found that knockdown of zNAA35 leads to loss of phosphorylation of downstream mTOR substrates. Pharmacological inhibition of TOR with rapamycin showed similar phenotypes as zNAA35 mutants with respect to growth and vessel defects [55], thus defects in the TOR pathway may partly explain the NAA35 knockout phenotypes.
Expression of the hNatC subunits
EST data from UniGene Cluster indicate that hNAA30 (Hs. 165465), hNAA35 (Hs. 436098), and hNAA38 (Hs. 565094) are ubiquitously expressed in epithelial tissue, loose and dense connective tissue, and in muscle and nervous tissues. hNAA30, hNAA35 and hNAA38 are found co-expressed in tissues, suggesting that expression is due to hNatC function. An exception is the pituitary gland, where hNAA35 and hNAA38, but not hNAA30, are significantly expressed. One may speculate if hNaa35p and hNaa38p have functions independent of hNaa30p in the pituitary gland. Gene expression of hNAA30 and hNAA35 at mRNA level measured by RT-qPCR is in accordance with EST data, confirming ubiquitous expression of these genes in all analyzed human cancer cell lines (Gromyko D. et al., unpublished data).
Knockdown of hNatC induces apoptosis in human cell lines
Knockdown of each of the hNatC subunits leads to similar phenotypes in HeLa cells: reduced cell proliferation and apoptosis [4]. This suggests that the observed knockdown phenotypes indeed are due to the loss of hNatC activity, and that all three subunits are needed for hNatC activity. A stronger phenotype was observed in cells with downregulated catalytic subunit hNaa30p, as compared to knockdown of auxiliary subunits hNaa35p and hNaa38p. Taken together, these phenotypes suggest that hNatC is required for normal cell growth and survival.
Furthermore, downregulation of hNatC subunits independently of one another in colon carcinoma cell lines HCT116 (
TP53+/+
and
TP53-/-
) demonstrated association between wild type
TP53
and apoptosis: the observed apoptotic phenotype was dependent on a functional
TP53
[
4
]. In addition, our findings indicated an activation of
TP53
in cells with downregulated levels of hNaa30p. After h
NAA30
knockdown we observed an increase in p53 protein level, an increase in p53 Serine 37 phosphorylation, and an increase in the expression of proapoptotic p53-downstream genes
KILLER, NOXA
and
FAS
. It is unclear how lack of hNatC-mediated acetylation causes activation of
TP53
, and thereby expression of downstream proapoptotic genes. One scenario may be that hNatC mediated acetylation is needed for normal function of factors upstream of p53. A summary of hNaa30p knockdown phenotypes is given in Figure
4
.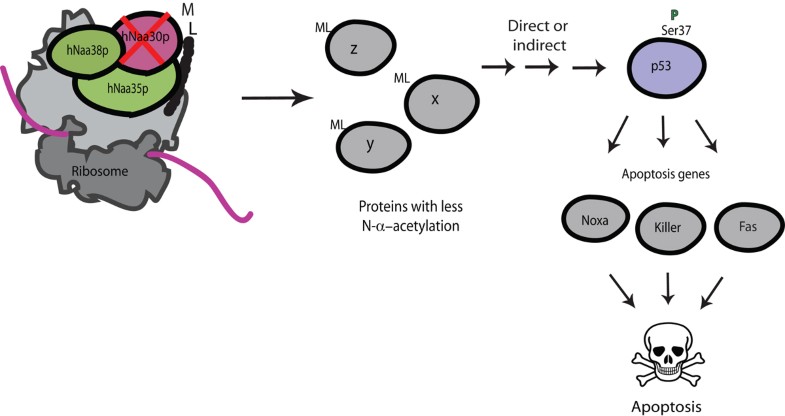 In zebrafish, the knockdown of the hNAA35 homologue Embryonic Growth-Assiciated Factor (EGAP, zNAA35) leads to embryonic lethality due to decreased cell proliferation, increased apoptosis, and poor blood vessel development [55]. These findings emphasize the importance of NatC for normal cell function and development in higher eukaryotes. Further studies are needed to understand the function of hNatC, and the mechanisms through which hNatC knockdown phenotypes are mediated.
The human NatD and NatE complexes
In yeast, two more NATs, NatD and NatE, have been described.
NatD
NatD is the Nα-acetyltransferase Naa40p (Nat4p). It was recently described to acetylate the Ser- N-termini of histones H2A and H4 in yeast [56]. No auxiliary subunits have been presented. To our knowledge, no studies have so far characterized the hNaa40p/hNatD activity in human cells. However, based on homology predictions, there exists a human homologue to the NAA40 gene [56].
hNatE
NatE is the designation for a complex consisting of the putative Nα-acetyltransferase Naa50p (Nat5p), and Naa10p and Naa15p of the NatA complex. hNaa50p is the human homologue of the yeast Naa50p (Nat5p), and the fruitfly San protein [24, 57]. hNaa50p is predicted to be a Nα-acetyltransferase, but this has not been verified experimentally. Naa50p is physically associated with Naa10p and Naa15p in several species including humans [5, 24, 57], but knockdown of Naa50p does not affect NatA type acetylations in lower eukaryotes. Thus, it is hypothesized that Naa50p has functions distinct from those of the NatA complex. However, the presence of Naa10p and Naa15p may be obligatory for the stability of Naa50p in yeast and humans [5, 6, 24]. In humans, knockdown of hNAA50 resulted in less severe and more distinct phenotypes as compared to hNatA (hNAA10-hNAA15) knockdown, further suggesting that hNaa50p functions separately from the hNatA complex [6]. More specifically, studies from both fruitflies and humans suggest a role for Naa50p in centromeric cohesion [6, 57]. Proper sister chromatid cohesion depends on the acetyltransferase activity of hNaa50p, but this activity has so far not been classified as a HAT or NAT activity [6]. Recently, Drosophila Naa50p was also shown to have a more general role in chromosome resolution [58]. So far, no substrate of Naa50p from any species has been identified, thus the final confirmation that this is indeed a NAT awaits further investigations.
Summary and conclusion
The field of human NATs is still in its infant steps. During the last five years the major NAT complexes hNatA, hNatB, and hNatC have been described. This represents a significant leap forward in the knowledge of Nα-terminal acetylation. As to this date, the minor hNatD and hNatE complexes remain unstudied. Bringing hNatD and hNatE along will be important, especially hNatE (hNaa50p), since this NAT type is completely uncharacterized for all species with respect to substrate specificity. With the NatA to NatE complexes characterized, it is likely that all NAT types in lower eukaryotes are described, since all N-terminally acetylated proteins are accounted for, and because there are no additional genes in the S. cerevisiae genome that are likely to encode additional NATs. However, for humans and other higher eukaryotes it is not unlikely that additional NATs exist. This is based on the fact that more substrates are N-terminally acetylated in humans as compared to yeast [9]. For example, Met-Lys N-termini are unacetylated in yeast while a portion of these N-termini is acetylated in human cells. Another area of uncertainty in humans is the N-terminal acetylation of actins. These acidic N-termini are acetylated, most likely post-translationally, by a so far unknown NAT. Finally, not all N-termini of Met-Ser, Met-Ala- types have their Met- cleaved by MetAPs, and many of these N-termini are acetylated in humans. These classes of substrates may indeed be N-terminally acetylated by hNatA-hNatE activities. They may also very well be acetylated by novel human NATs yet to be described, like the Camello class of proteins present in higher eukaryotes, which displays sequence similarity to the NATs [7].
Even though knockdown phenotypes of all major human NATs suggest important roles for these complexes, functional links between specific substrates and the phenotypes have not been established. Clearly, this represents challenge of great importance. Recent works estimate that 80% of all soluble human proteins are N-terminally acetylated. The human NATs display severe knockdown phenotypes, and have several potential links to disease. Thus, this modification and these enzymes clearly deserve significant attention in the future.
Declarations
Acknowledgements
This work was supported by Norwegian Health region West (to J.E.V. and T.A.), the Norwegian Research Council (to T.A.), and the University of Bergen Research grants (to T.A.).
This article has been published as part of BMC Proceedings Volume 3 Supplement 6, 2009: Proceedings of the 2007 and 2008 Symposia on Protein N-terminal Acetylation. The full contents of the supplement are available online at http://www.biomedcentral.com/1753-6561/3?issue=S6
Authors' Affiliations
(1)
Department of Molecular Biology, University of Bergen, Bergen, Norway
(2)
Department of Surgical Sciences, University of Bergen, Bergen, Norway
(3)
Department of Surgery, Haukeland University Hospital, Bergen, Norway
Copyright
© Starheim et al; licensee BioMed Central Ltd. 2009
This article is published under license to BioMed Central Ltd. This is an open access article distributed under the terms of the Creative Commons Attribution License (http://creativecommons.org/licenses/by/2.0), which permits unrestricted use, distribution, and reproduction in any medium, provided the original work is properly cited.