Early (2 weeks) vs. late (8 weeks) initiation of highly active antiretroviral treatment (HAART) significantly enhance survival of severely immunosuppressed HIV-infected adults with newly diagnosed tuberculosis: results of the CAMELIA clinical trial
BMC Proceedings volume 5, Article number: O11 (2011)
1979 Accesses

17 Citations
Background
Tuberculosis (TB) remains the largest cause of death among people living with HIV/AIDS, especially among those with profound immunosuppression. Case-fatality among co-infected patients occurs mainly in the first months after the TB treatment initiation. Therefore, robust data regarding optimal timing of HAART initiation within this early period is critically needed.
Methods
The CAMELIA (CAMbodian Early vs. Late Introduction of Antiretroviral drugs) clinical trial is an open-labelled randomized clinical trial designed to compare the impact upon mortality of early (2 weeks) vs. late (8 weeks) HAART initiation after TB treatment onset in treatment-naïve adults with newly diagnosed acid-fast bacilli (AFB) positive TB and CD4+ cell count ≤ 200 cells/mm3. Patients received standard 6-month TB treatment plus stavudine, lamivudine and efavirenz in 5 hospitals in Cambodia, 2 in Phnom Penh and 3 in province. Patients were followed for 50 weeks after the last patient's enrollment. A log-rank test was used to compare Kaplan-Meier survival curves.
Results
661 patients (early, n=332; late, n=329) were enrolled with a median age of 35 yrs, body mass index of 16.7 kg/m2, CD4+ cell count of 25 cells/mm3 and viral load of 5.64 log copies/ml. All AFB-positive samples including sputum in 538 (81.4%) patients, were cultured. As of May 13, 2010, 149 patients were known dead (59, early arm; 90, late arm). Enhanced survival was observed in the early arm (p=0.004, see figure). At week 50, median CD4+ gain was 114 cells/mm3 and was not statistically different across arms (p=0.22); 96.5% of patients had an undetectable viral load and again no difference across arms was found (0.82). Figure 1.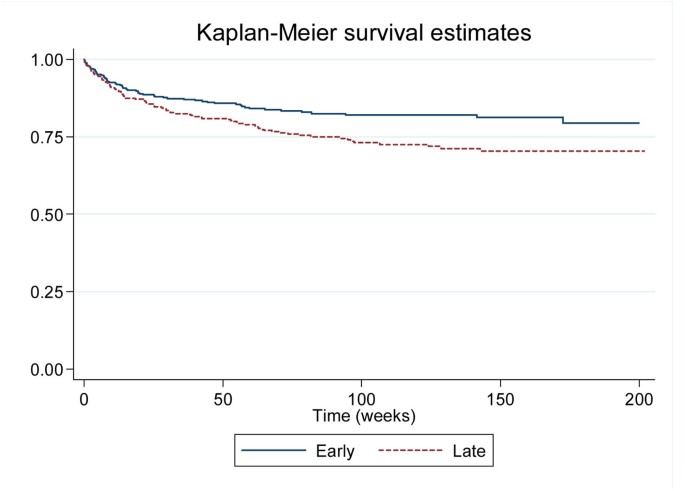 Conclusion
Initiation of HAART 2 weeks after onset of TB treatment significantly improves survival in severely immunosuppressed HIV-infected adults with newly diagnosed tuberculosis.
Acknowledgements
Supported by grants from ANRS (#1295/12160) and NIH-NIAID (CIPRA KH #001/10425).
Rights and permissions
This article is published under license to BioMed Central Ltd. This is an open access article distributed under the terms of the Creative Commons Attribution License (http://creativecommons.org/licenses/by/2.0), which permits unrestricted use, distribution, and reproduction in any medium, provided the original work is properly cited.
About this article
Cite this article
Blanc, FX., Sok, T., Laureillard, D. et al. Early (2 weeks) vs. late (8 weeks) initiation of highly active antiretroviral treatment (HAART) significantly enhance survival of severely immunosuppressed HIV-infected adults with newly diagnosed tuberculosis: results of the CAMELIA clinical trial. BMC Proc 5 (Suppl 1), O11 (2011). https://doi.org/10.1186/1753-6561-5-S1-O11
Published:

DOI: https://doi.org/10.1186/1753-6561-5-S1-O11
Keywords
Tuberculosis

Lamivudine

Efavirenz

Stavudine

Undetectable Viral Load