ProfileGrids: a sequence alignment visualization paradigm that avoids the limitations of Sequence Logos
BMC Proceedings
2014
8(Suppl 2):S6
Published: 28 August 2014
Abstract
Background
The 2013 BioVis Contest provided an opportunity to evaluate different paradigms for visualizing protein multiple sequence alignments. Such data sets are becoming extremely large and thus taxing current visualization paradigms. Sequence Logos represent consensus sequences but have limitations for protein alignments. As an alternative, ProfileGrids are a new protein sequence alignment visualization paradigm that represents an alignment as a color-coded matrix of the residue frequency occurring at every homologous position in the aligned protein family.
Results
The JProfileGrid software program was used to analyze the BioVis contest data sets to generate figures for comparison with the Sequence Logo reference images.
Conclusions
The ProfileGrid representation allows for the clear and effective analysis of protein multiple sequence alignments. This includes both a general overview of the conservation and diversity sequence patterns as well as the interactive ability to query the details of the protein residue distributions in the alignment. The JProfileGrid software is free and available from http://www.ProfileGrid.org.
Keywords
Multiple Sequence AlignmentSequence LogoProtein Multiple Sequence AlignmentResidue SymbolResidue Frequency
Background
Molecular biologists can learn about a protein's structure and function by studying the natural sequence variation resulting from a protein family's evolution [1]. A multiple sequence alignment (MSA) is crucial for such bioinformatic analysis to relate homologous residues to one another as pioneered by early molecular evolution studies (for example [2]). Software tools are now available to align very large data sets consisting of 100,000+ sequences [3]. However, there is a lack of programs that allow users to visualize and to interact with very large MSAs [4]. Existing MSA visualization tools [5] continue to use a simple stacked sequence alignment visualization paradigm representing all individual sequences as rows in a table and homologous residue positions as columns. This "row-column" paradigm was sufficient decades ago when alignments were small; but, the stacked sequence representation is now inadequate for the amount of data being used today.
Sequence Logos were introduced in 1990 as a new visualization paradigm to represent the MSA consensus residues enabling easy observation of conservation patterns in MSAs [
6
]. A hallmark of this paradigm is that a residue's frequency in the MSA column is depicted visually by the height of the residue single-letter symbol with all residues from the same column then stacked upon each other. These features are shared by subsequent derivatives of the Sequence Logo paradigm (Table
1
). Modifications to the paradigm include different algorithms for determining symbol height [
7
–
16
], visualizing conservation within MSA subpopulations [
17
,
18
], replacing the symbols with one-dimensional [
19
] or three-dimensional [
20
] bars, comparing differences between two MSAs [
11
], identifying infrequent residues [
15
,
21
], handling specialized contexts (such as for RNA [
7
,
22
,
23
], structural elements [
24
], or codons [
25
]), and implementing online web servers [
26
].
Table 1
Sequence Logo Derivatives
| Name | Year | Reference |
| --- | --- | --- |
| SequenceLogo | 1990 | 6 |
| StructureLogo | 1997 | 7 |
| WebLogo | 2004 | 26 |
| HMMLogo | 2004 | 8 |
| PSSMlogo | 2004 | 9 |
| enoLOGOS | 2005 | 10 |
| CorreLogo | 2006 | 20 |
| InverseLogo | 2006 | 21 |
| LogoBar | 2006 | 19 |
| SubfamilyLogo | 2006 | 17 |
| TwoSampleLogo | 2006 | 11 |
| Phylo-mLogo | 2007 | 18 |
| REALLogo | 2007 | 24 |
| Blogo | 2008 | 12 |
| RNALogo | 2008 | 22 |
| iceLogo | 2009 | 13 |
| berryLogo | 2011 | 14 |
| CodonLogo | 2012 | 25 |
| Rilogo | 2012 | 23 |
| Seq2Logo | 2012 | 15 |
| pLogo | 2013 | 16 |
| BioVis contestants | 2013 | (this volume) |
Despite their widespread use, though, Sequence Logos have their limitations. While Logos are suitable for nucleic acids with only four residue symbols legible at even small sizes, there are problems when representing 20 residues of protein sequences. Variable regions of a protein alignment and positions with rare residues are not legible in Logos since the symbol size is small when scaled relative to the conserved positions. This has been described as a "totally incomprehensible jumble of letters." [14] However, even for conserved residues, the stacking of the symbols can lead to confusion. For example, Schneider pointed out that an "F" on top of an "L" could be mistaken for a long "E." [6] Logos do not display any information about residues missing from alignment columns and also lack a representation for gap symbols. Notably, Logos suffer from aesthetic challenges when two visualization channel types [27] are combined: symbol/stack height versus symbol color. Interpreting the tall/short stacked letter columns can be complicated by the color schemes used to distinguish different amino acid residue classes (such as the prominent red coloring of acidic protein residues). Finally, a recent user study evaluated the effectiveness of Sequence Logos for comparing motifs [28]. The authors identified these problems: difficulty in judging the height of stacked symbols, no standardization for symbol color schemes, and a lack of interactivity for most current software tools.
The challenge in the visualization of large sequence alignments is in identifying a paradigm that summarizes the overall conservation trends while still providing easy navigation to detailed views of the underlying data [4]. ProfileGrids as a MSA visualization paradigm were invented in 2005 for the analysis of the bacterial RecA protein family. MSA analysis had become impractical using the standard stacked sequence representation since a curated alignment had grown to several hundred homologs [29]. A ProfileGrid reduces an alignment to a matrix, color-shaded according to the residue frequency in the MSA [30]. The JProfileGrid Java program was upgraded to version 2.0 [31] with new software features as well as improvements to the aesthetics in the visualization paradigm after receiving feedback from the http://VIZBI.org community [27]. The ProfileGrid paradigm has two simple but significant differences that avoid Sequence Logos limitations: 1) all residue symbols are the same height since the matrix row sizes are fixed; 2) color shading of the cells is used to represent the frequency distribution of the residues in the sequence data. Thus, the overall conservation trends can be seen from the "heat map." The JProfileGrid software tool is an interactive MSA viewer taking advantage of the matrix representation of alignments.
The 2013 BioVis conference Redesign Contest provided an opportunity to demonstrate the usefulness of the ProfileGrid paradigm by visualizing the adenylate kinase lid (AKL) protein family alignments [32]. Here, I report the final figures generated by the JProfileGrid software and the unique observations made possible by ProfileGrid analysis.
Methods
The protein sequence alignment data sets were provided by the 2013 BioVis Redesign Contest organizers. The Sequence Logos (Figure
1
) were generated using the WebLogo server [
26
] and replicate the original BioVis contest figure to be "redesigned." Two versions of the JProfileGrid software, 1.22 [
30
] and 2.0.5 [
31
], have been described in previous publications. The latter version was used for this study and is available under a GNU General Public License at
http://www.ProfileGrid.org
.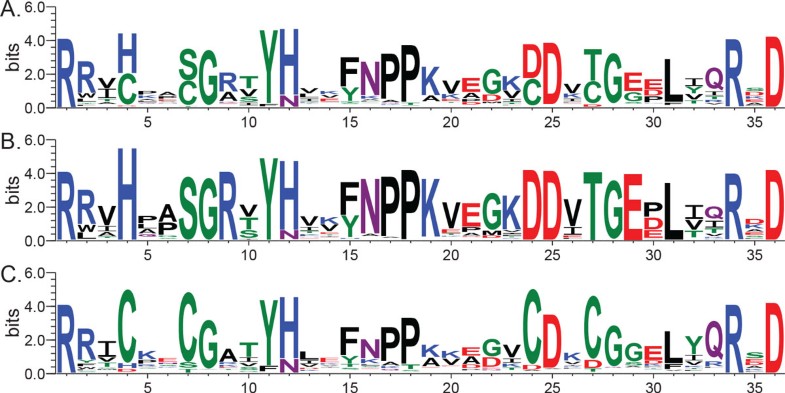 Conclusions
While Sequence Logos have their merits for visualizing short conserved motifs especially in nucleic acid sequences, this paradigm has limitations when representing protein alignments. The ProfileGrid paradigm replaces Sequence Logos and solves the challenge of visualizing large protein alignments. Thus, ProfileGrids allow a molecular biologist to clearly and effectively analyze protein structure and function.
List of abbreviations used
AKL:

adenylate kinase lid
MSA:

multiple sequence alignment
Declarations
Acknowledgements
This study was self-financed by AIR. I gratefully acknowledge the dataset provided by Drs. Magliery and Sullivan at The Ohio State University for the purposes of the BioVis 2013 Contest. I also thank the 2013 BioVis contest organizers especially William Ray, Ph.D., of The Ohio State University.
Declarations
Publication of this work was self-financed by AIR.
This article has been published as part of BMC Proceedings Volume 8 Supplement 2, 2014: Proceedings of the 3rd Annual Symposium on Biological Data Visualization: Data Analysis and Redesign Contests. The full contents of the supplement are available online at http://www.biomedcentral.com/bmcproc/supplements/8/S2
Authors' Affiliations
(1)
ProfileGrid.org, Irvine, USA
Copyright
© Roca; licensee BioMed Central Ltd. 2014
This article is published under license to BioMed Central Ltd. This is an Open Access article distributed under the terms of the Creative Commons Attribution License (http://creativecommons.org/licenses/by/4.0), which permits unrestricted use, distribution, and reproduction in any medium, provided the original work is properly cited. The Creative Commons Public Domain Dedication waiver (http://creativecommons.org/publicdomain/zero/1.0/) applies to the data made available in this article, unless otherwise stated.