Original Paper
Open Access
Enhancing research careers: an example of a US national diversity-focused, grant-writing training and coaching experiment
BMC Proceedings
2017
11(Suppl 12):16
Published: 4 December 2017
Abstract
Background and purpose
Preparing a successful research proposal is one of the most complex skills required of professional scientists, yet this skill is rarely if ever, taught. A major goal of the National Research Mentoring Network (NRMN) in the United States (U.S.) is to support the professional advancement of postdoctoral fellows and junior faculty from diverse populations by offering intensive coaching in the development of grant proposals early in their careers. This article highlights the National Institutes of Health's (NIH) NRMN initiative to prepare diverse constituencies of early-stage biomedicine scientists for research careers by implementation of an evidence-based nationwide program of comprehensive grant writing and professional development.
Program and key highlights
NRMN delivers four unique but complementary coaching models: the Proposal Preparation Program from the University of Minnesota (UMN); Grantwriters Coaching Groups from Northwestern University (NU); Grantwriting Uncovered: Maximizing Strategies, Help, Opportunities, Experiences from the University of Colorado Anschutz Medical Campus (UC) and Washington State University (WSU); and Steps Towards Academic Research from the University of North Texas Health Science Center (UNTHSC). Because these programs cater to scientists at different career stages, rather than employ a single approach, each is uniquely tailored to test its efficacy at the national level. The first two models prioritize scientists with reasonably well-developed research projects who are ready to write proposals for specific NIH research competitions. The other two models target postdoctoral fellows and early-career faculty who need more extensive guidance in proposal development plans. To achieve scalability, all programs also recruit faculty as Coaches-in-Training to learn approaches and acquire particular group facilitation skills required by each model.
Implications
These efforts exemplify NRMN's potential to enhance the career development of diverse trainees on a national scale, building research skills, competitiveness for obtaining faculty positions and capacities that will result in high quality research proposals from a diverse pool of applicants, thereby advancing innovations in science and diversifying the U.S. biomedical workforce.
Introduction
Specific demographic groups defined by NIH are underrepresented in biomedical science careers in the U.S. [
1
,
2
]. These groups include African Americans, Hispanics or Latinos, American Indians and Alaska Natives, Native Hawaiians and other Pacific Islanders, people with disabilities, and additional socially and economically disadvantaged populations. A high priority for NRMN is to enhance the number of faculty from diverse underrepresented groups who remain in the research workforce and advance in academic positions. This need is reflected in the latest statistics on the drop off in representation of URM populations at each of the key career stages. According to National Science Foundation's report on Women, Minorities and Persons with Disabilities in Science and Engineering, 109,520 biological science bachelor's degrees were awarded in the 2014. Hispanics or Latinos accounted for 11,552, 7663 to Black or African American, 269 to Native or Other Pacific Islander and 193 to American Indian or Alaska Native, compared to 63,320 Whites. A further discordance was reported in the number doctorate recipients in the biological sciences. The number of doctorates earned in the biological sciences in 2014 was 4067 for Whites, Hispanic or Latino 379, American Indian or Alaska Native 16, and 271 for Black or African American. Data on Native or Other Pacific Islander was either suppressed based on confidentiality or reliability [
3
]. An analysis of faculty diversity in top-funded U.S. Science, Technology, Engineering, Mathematics and Medical (STEMM) departments reveals that, in addition to the production of a very small diverse doctorate pool, even this limited diversity is not reflected in the faculty of biomedical and medical departments [
4
]. Moreover, faculty diversity by academic rank and race is further reflected in the disparity among underrepresented minority (URM) populations in the research workforce (Table
1
).
Table 1
Percent of biology faculty by rank and race
| | White | Asian | Black | Hispanic | American Indian |
| --- | --- | --- | --- | --- | --- |
| Assistant Professor | 16.3 | 3.2 | 0.3 | 0.8 | 0 |
| Associate Professor | 19.4 | 1.8 | 0.3 | 0.3 | 0.1 |
| Full Professor | 53.2 | 3.1 | 0.4 | 0.8 | 0 |
Career advancement for most research faculty is measured by their ability to obtain external funding support. This situation is particularly critical for tenure-track faculty, for whom the acquisition of NIH-level funding is often a requirement for promotion and tenure. One might argue therefore, that underrepresentation at the faculty level is likely further exacerbated by the discrepancy in rates of NIH funded research awards. In 2011, Ginther and colleagues confirmed a long-suspected disparity between racial minority groups and their White counterparts in terms of receipt of NIH research funding [5]. In 2016, Dr. Hannah Valentine, Chief Officer for Scientific Workforce Diversity at NIH, presented her "Analysis of African American Application Outcomes and Next Steps" at the 112th Meeting of the Advisory Committee to the Director of the NIH [6]. Dr. Valentine reviewed the recent success rates provided in the 2016 Office of Extramural Research Report, which found no improvement in success among African Americans compared to White applicants for NIH's premier grant awards (e.g. 5-year research grants termed "R01") between 2010 and 2015. During this period, African Americans represented only 1.5% of the total applicant pool, and among proposals submitted by African Americans, a lower percentage were discussed, scored, or resubmitted than among White applicants. This report identified a robust, sustained commitment to mentoring and coaching as a significant determinant of success in obtaining grant awards. Upholding and implementing accountability to this commitment on a national level is a primary goal of the NRMN.
One component of NRMN is the professional development of mentees and coaches. To this end, NRMN delivers four complementary coaching models: The Proposal Preparation Program (NRMN-P3) at the University of Minnesota (UMN), Grantwriters Coaching Groups at Northwestern University (NU), Grantwriting Uncovered: Maximizing Strategies, Help, Opportunities, Experiences (GUMSHOE) at the University of Colorado Anschutz Medical Campus (UC) and Washington State University (WSU), and Steps Towards Academic Research (NRMN-STAR) at the University of North Texas Health Science Center (UNTHSC). The following sections detail the creation and national dissemination of these intensive grant writing and coaching programs. Each is designed to provide diverse postdoctoral researchers and early-career faculty investigators with substantive innovative training and specialized mentorship to support the development of high-quality research proposals.
Conclusion and significant contributions
The skills required for grant writing at the postdoctoral and junior faculty levels are highly variable. Equally variable is the provision of institutional resources to support proposal development by early-stage investigators from underrepresented groups in biomedical, behavioral and social sciences. Therefore, professional development programs that extend beyond institutional borders are critically needed. NRMN's significant contribution is the implementation of four intensive, complementary curricula in grantwriting and professional development that enables individualized, iterative feedback from successful senior researchers with demonstrated skills in working with minority investigators at different stages of their careers. The four curricula also help to develop a critical mass of grantwriting coaches with the requisite skills for this work. The Coaches-in-Training model implemented by NRMN prepares faculty to be effective grantwriting mentors, thereby providing a sustainable mechanism to deliver transformative professional development experiences to large numbers of underserved postdoctoral fellows and junior faculty.
Current and anticipated outcomes
A key outcome of NRMN's approach to grant-training is to increase a sustainable architecture that will support and facilitate harnessing the collective expertise of successful scientists in the interest of accelerating the research career development of a diverse constituency of faculty. Considering that proposals are a key element of academic job applications, NRMN programs targeting postdoctoral fellows is one its impactful innovations. Although outcomes are premature, it is expected that such programs will also help URM scientists to be more successful in obtaining faculty positions. As an outcome, we expect to see an increase in the number and proportion of URMs progressing in their faculty career in part by receiving NIH research grant awards. Collectively, a diverse representation of URMs have participated as trainees across all programs including postdoctoral fellows and a growing diverse cadre of faculty Coaches-in-Training. Recruitment encompasses participation from partner minority-serving institutions, attendance at the Annual Biomedical Research Conference for Minority Students, Society for Advancing Chicanos/Hispanics and Native Americans in Science and fostering collaboration with scientific National professional societies. To date, African Americans (Blacks) and Hispanic/Latino populations comprised most of the participants followed by White and Asians. Collectively, Native-American and Hawaiian Pacific Islanders comprised made up 6% of the cohorts (Fig.
1
). The NRMN Professional Development Core programs have successfully expanded from their original institutional settings by introducing five new locations to host one of NRMN's grant writing programs. This has allowed NRMN to reach new participants trainees and train new coaches on a national scale (Fig.
2
). Data on the efficacy of each program have begun to accrue, including numbers of proposals submitted, reviewed, resubmitted, and funded. In addition, baseline self-reported data is being collected from trainees providing value information of their grantwriting proficiency and confidence in persistence in biomedicine research. By the end of the first 5 years of funding, NRMN investigators will have accumulated substantial data to assess which program is most effective in which setting, and for which types of early-career trainees. The four programs are also learning best practices from each other and adding effective new practices to complement existing approaches. The support from NIH to expand four different models instead of collapsing them into a single program appears sound, as it promises to identify best practices for successful career development among minority researchers.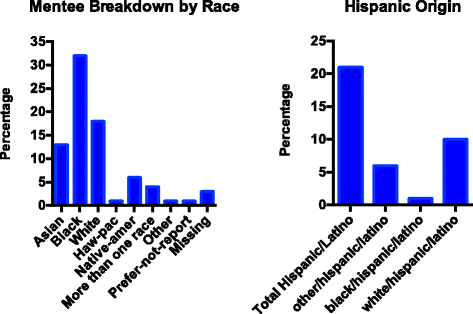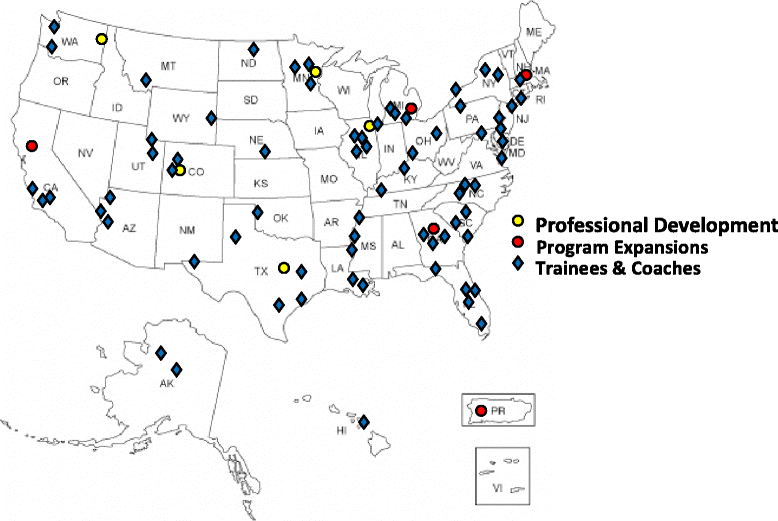 Abbreviations
GUMSHOE:

Grantwriting uncovered: maximizing strategies, help, opportunities, experiences
NIH:

National Institutes of Health
NRMN:

National research mentoring network
NU:

Northwestern University
P3:

Proposal preparation program
PDC:

Professional development core
STAR:

Steps toward academic research
UC:

University of Colorado Anschutz Medical Campus
UMN:

University of Minnesota
UNTHSC:

University of North Texas Health Science Center
WSU:

Washington State University
Declarations
Acknowledgements
The authors would like to recognize the directors and associate directors of the NRMN Professional Development Core for providing valuable insight during the development and review of this manuscript. The authors would like to extend a special thank-you to Andrea Gouldy, Kristin Eide and Thaddeus Unold, and for their contributions to the editing and collection of program data. They also thank Raymond M. Harris, PhD, for assistance with editing and formatting the manuscript.
Funding
Work reported in this publication was supported by the National Institutes of Health Common Fund and Office of Scientific Workforce Diversity (USA). Publication of this article was funded by the CEC awards U54GM119024 and U54GM119024–03:S1 administered by the National Institute of General Sciences (NIGMS). Research reported in this publication was supported by the National Institute Of General Medical Sciences of the National Institutes of Health under award number U54GM119023. The content is solely the responsibility of the authors and does not necessarily represent the official views of the National Institutes of Health.
Availability of data and materials
Not a data-based article.
Authors' contributions
All authors jointly contributed to the conception and design as well as acquisition of data and interpretation of data in this work. All contributing authors have approved this manuscript as presented here in its final form.
Ethics approval and consent to participate
Not applicable.
Consent for publication
Not applicable.
Competing interests
The authors acknowledge that there are no conflicts of interest related to the publication of the information within in this manuscript.
Publisher's Note
Springer Nature remains neutral with regard to jurisdictional claims in published maps and institutional affiliations.
Open AccessThis article is distributed under the terms of the Creative Commons Attribution 4.0 International License (http://creativecommons.org/licenses/by/4.0/), which permits unrestricted use, distribution, and reproduction in any medium, provided you give appropriate credit to the original author(s) and the source, provide a link to the Creative Commons license, and indicate if changes were made. The Creative Commons Public Domain Dedication waiver (http://creativecommons.org/publicdomain/zero/1.0/) applies to the data made available in this article, unless otherwise stated.
Authors' Affiliations
(1)
Center for Diversity and International Programs, University of North Texas Health Science Center, Fort Worth, USA
(2)
Feinberg School of Medicine, Northwestern University, Chicago, USA
(3)
Department of Medicine, University of Minnesota Medical School, Minneapolis, USA
(4)
Initiative for Research and Education to Advance Community Health, Washington State University, Seattle, USA
(5)
Centers for American Indian and Alaska Native Health, Colorado School of Public Health, University of Colorado Anschutz Medical Campus, Aurora, USA
(6)
Department of Family and Preventive Medicine, University of Utah School of Medicine, Salt Lake City, USA