A Bayesian genome-wide linkage analysis of quantitative traits for rheumatoid arthritis via perfect sampling
BMC Proceedings
2007
1(Suppl 1):S110
Published: 18 December 2007
Abstract
Rheumatoid arthritis is a complex disease caused by a combination of genetic, environmental, and hormonal factors, and their additive and/or non-additive effects. We performed a linkage analysis to provide evidence of rheumatoid factor IgM on linkage, based on Bayesian variable selection coupled with the new Haseman-Elston method. For statistical inferences to estimate unknown parameters, we utilized the perfect sampling algorithm, an emerging simulation technique that alleviates concerns over convergence and sampling mixing. Our methods provide powerful and conceptually simple approaches to simultaneous genome scans of main effects and all possible pairwise interactions. We apply them to the Genetic Analysis Workshop 15 data (Problem 2) provided by the North American Rheumatoid Arthritis Consortium (NARAC).
Keywords
Markov Chain Monte CarloGenetic Analysis WorkshopBayesian Model SelectionBayesian Variable SelectionPerfect Sampling
Background
Rheumatoid arthritis (RA) is a clinically heterogeneous disorder with variability in severity, disease course, and response to therapy. Although the exact cause of rheumatoid arthritis is still unknown, RA is known to be a complex disease caused by a combination of genetic, environmental, and hormonal factors, and their additive and/or non-additive effects (epistases or gene × environment interactions). Genetic risk factors not only determine susceptibility for the disease but also correlate with disease severity and phenotype. Among phenotypes, rheumatoid factor IgM is a significant and common measure for diagnosis of RA. Therefore, genetic linkage analyses of IgM levels may reveal major differences in chromosomal regions showing evidence for linkage.
While recent interest has been focused on genome scans using a large number of marker loci, the common approaches of existing statistical methods produce often inconsistent results. This is due in part to the fact that they test markers one after another and fail to capture the substantial information of epistases among disease loci. The use of Bayesian model selection has been the popular method of remedying the pitfalls of conventional methods in recent years, whereby identifying loci with significant effects is viewed as a model selection problem. Unlike conventional methods suggesting a single best model, Bayesian methods consider multiple possible models along with their probabilities to incorporate model uncertainty. One of the powerful Bayesian model selection approaches is the use of stochastic search variable selection (SSVS) [1–4], in which Markov chain Monte Carlo (MCMC) sampling algorithms are used to sample from the posterior distributions, thus making identification of promising subsets even for many candidate variables (markers) feasible.
Although Bayesian approaches with MCMC techniques have made intensive computations possible and efficient on large-scale data sets arising in modern genomic and genetic applications, an application of Bayesian model selection is still quite challenging and limited from both a computational standpoint as well as the sensitivity to the choice of prior distributions. The usage of MCMC has been often controversial due to the uncertainty of convergence and the dependence on starting positions. In addition, the samples obtained by MCMC are correlated, which can drastically reduce the efficiency of the approaches. These drawbacks of MCMC, however, can be overcome by perfect sampling, which was first proposed by Propp and Wilson [5] under the name of coupling from the past (CFTP). Perfect sampling uses a scheme of coupling chains in order to guarantee that samples are exactly from the target distribution of interest. The basic idea is to run coupled chains that start from all initial states from the past time -T and run them to time 0, in which at any instant of time t ∈ [-T, 0), the same random seed and an updating function are applied to all possible chains. Once all the chains meet (coalesce), from this time onward, due to the common random seed and an updating function, they follow the same path, and at a time 0 they arrive at the same state, which is then an exact sample from the posterior distribution. Therefore, this procedure guarantees that the effect of initial states wears off, yielding an exact sample regardless of starting values. Although perfect sampling suggests the ideal approach to draw an exact sample, the framework of running chains from all possible states is almost infeasible because of the large number of markers involved.
Motivated by Huang and Djuric [6], we propose an efficient implementation of perfect sampling for high-dimensional data. Then, coupled with the new Haseman-Elston method [7], we carry out screening to identify susceptibility alleles that are more closely linked to rheumatoid factor IgM. We further evaluate their possible epistases. Most existing methods adopt a two-stage procedure to screen epistases, in which epistases are only considered for previously selected markers with significant main effects, and thereby they are bound to miss important loci whose effects influence a trait primarily through epistasis. In contrast, we perform an efficient simultaneous screening both on main effects and epistases. Our methods can handle large problems involving up to thousands of markers without any strict conditions in a reasonable running time. We apply these methods to the RA data of Genetic Analysis Workshop 15 (GAW15) (Problem 2).
Results
Choice of hyper-parameters
Before we ran perfect sampling, we had to decide hyper-parameters (c, w1) under a non-epistatic model, and (c, w1, w2) in Eq. (6) or (c, w11, w01, w00) in Eq. (7) under an epistatic model. To specify these values, rescaling and sensitivity analysis may be advisable. We checked the sensitivity of our methods toward the choice of c by re-running our algorithms for several values of c between 1 and 10. The results were not sensitive (data not shown). Choosing (w1, w2) and (w11, w01, w00) in the model space prior is rather straightforward. A smaller value should provide smaller estimates of marginal posteriors, but our results were robust to these values since we took them as threshold values to select important effects. Therefore, in this paper, we only reported the results by fixing (c, w1) = (5, 0.01) for a non-epistatic model and (c, w1, w2) = (5, 0.01, 0.01) in Eq. (6) and (c, w11, w10, w00) = (5, 0.01, 0.01, 0.005) in Eq. (7) for an epistatic model for comparison.
Main effects
We first performed screening of main effects only. We collected 500 samples from perfect sampling. The average coupling time to achieve coalescence for one sample was about 1 minute. Figure
1
displays an empirical frequency of each effect to estimate a marginal posterior probability,
π
(λ
i
= 1|
Y
). We found the highest peak on chromosome 6, and suggestive peaks on chromosomes 2, 4, 5, 11, 19, and 21, which had estimated marginal probabilities greater than
w
1
= 0.01.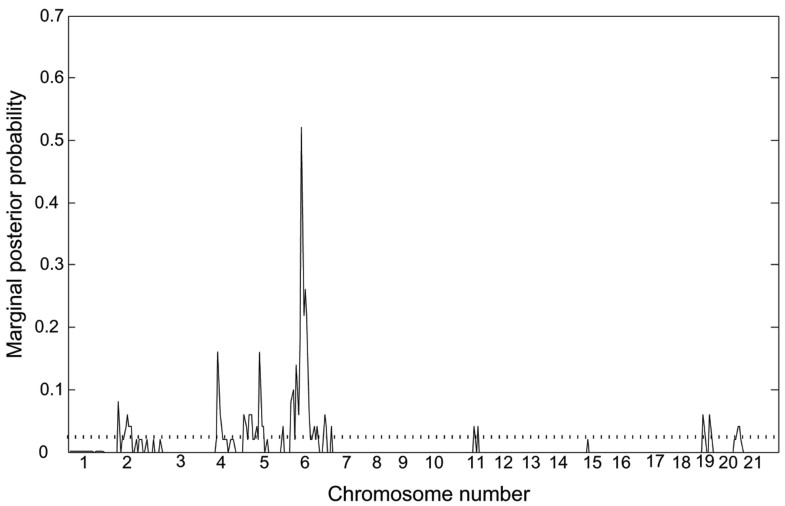 Total effects (main and interaction effects)
To assess the evidence for epsitases, we included all main effects and two-way pairwise interaction terms in the model. Therefore, the total number of effects considered was 83,028. We compared two different assumptions Eq. (
6
) and Eq. (
7
). We collected 500 samples. The average coupling time to achieve coalescence for one sample was about 25 minutes under Eq. (
6
) and 21 minutes under Eq. (
7
). The summary of the results is given in Table
1
. The same significant main effects as in the above "main effects" were found. Additionally, we found three suggestive interactions effects between chromosomes 6 and 16, 6 and 19, and 6 and 21 under both Eq. (
6
) and Eq. (
7
) prior assumptions.
Table 1
Ranking of empirical estimations of marginal posterior probability of significant effects under two prior assumptions
(w1, w2) = (0.01, 0.01)

(w1, w11, w10, w00) = (0.01, 0.01, 0.01, 0.005)

Ranking

Chromosome

Relative frequencya

Ranking

Chromosome

Relative frequency

1

Chr 6

0.35

1

Chr 6

0.37

2

Chr 5

0.28

2

Chr 4

0.35

3

Chr 4

0.21

3

Chr 5

0.28

4

Chr19

0.17

4

Chr19

0.11

5

Chr 6 × Chr 19b

0.15

5

Chr 2

0.08

6

Chr 2

0.09

6

Chr 6 × Chr 16

0.05

7

Chr 6 × Chr 16

0.05

7

Chr 6 × Chr 21

0.04

8

Chr 6 × Chr 21

0.03

8

Chr 6 × Chr 19

0.02

Others

<0.01

Others

<0.005
Conclusion
We have applied Bayesian variable selection via perfect sampling to the RA data of GAW15 to identify markers linked to rheumatoid factor IgM. Our methods can accommodate a large number of markers, permit epistatic effects to be considered in the models, and evaluate all effects simultaneously. Therefore, they have significant advantages over the classic approaches. As opposed to other Bayesian methods, our methods do not require any tunings relating to convergence issues of MCMC techniques and there is no dependence on initial values. Therefore, they are reliable even from a small number of drawn samples.
Our analyses have revealed that there is a strong evidence for main effects on chromosome 6, and also marginal evidence for epistases between chromosomes 6 and 16, 6 and 19, and 6 and 21. To increase the accuracy, we may collect more samples.
Declarations
Acknowledgements
This article has been published as part of BMC Proceedings Volume 1 Supplement 1, 2007: Genetic Analysis Workshop 15: Gene Expression Analysis and Approaches to Detecting Multiple Functional Loci. The full contents of the supplement are available online at http://www.biomedcentral.com/1753-6561/1?issue=S1.
Authors' Affiliations
(1)
Department of Preventive Medicine, University of Medicine and Dentistry of New Jersey, USA
Copyright
© Oh; licensee BioMed Central Ltd. 2007
This article is published under license to BioMed Central Ltd. This is an open access article distributed under the terms of the Creative Commons Attribution License (http://creativecommons.org/licenses/by/2.0), which permits unrestricted use, distribution, and reproduction in any medium, provided the original work is properly cited.