The genetics of gene expression: comparison of linkage scans using two phenotype normalization methods
BMC Proceedings
2007
1(Suppl 1):S151
Published: 18 December 2007
Abstract
The goal of this paper is to investigate the effects of normalization procedures for expression data on linkage results. We selected the two most commonly used expression data extraction and normalization methods, Affymetrix global scaling and dChip invariant. After applying these two methods in 3554 expression phenotypes, we identified 45 phenotypes that were more likely to be genetic for either normalization procedure. A genome-wide linkage scan was performed on these expression values (45 phenotypes × 2 normalizations) using 2272 SNPs. Our results showed that: 1) the dChip normalization might inflate the LOD scores because the dChip normalization yielded LOD scores > 3.0 30% more frequently than the Affy normalization, and 2) the difference in LODs between the normalizations were not correlated with their heritabilities. In summary, we conclude, as have other published reports, that normalization methods play an important role in the linkage results, and that some significant linkage signals might be due to a specific normalization method.
Keywords
Linkage AnalysisNormalization MethodExpression PhenotypeGlobal ScalingAffymetrix Microarray Suite
Introduction
There is great interest in understanding genetic factors related to variable expression of genes. Recently, several studies have shown the first evidence of heritability of mRNA between individuals [1–4]. By treating the expression phenotypes for each transcript (or probe) as a quantitative phenotype, a variance-components linkage analysis could be used [1–4]. The expectation is to detect linkage signals between the gene expression values and genomic regions. As pointed out by Chesler et al. [4], several issues plague these studies, including the choice of an appropriate normalization method and the selection of informative expression values. For the current analysis, we applied two data extraction and normalization methods, Affymetrix Microarray Suite with global scaling (Affy) and DNA chip analyzer's model-based expression indexes with invariant normalization (dChip), because they summarized probe-level signals using different approaches. The Affy method takes weighted average of a paired perfect and mismatch difference for a probe set, and the dChip method uses a model-based estimation at the probe level and accounts for probe-specific effects and outliers to derive a probe set expression. Thus, our primary goal was to investigate these two methods by studying their similarity in linkage signals, and our secondary goal was to investigate the similarity between our variance components-based linkage findings and those of Morley et al. [2], which were calculated using sib-pair regression based methodology and nuclear families only.
Results
The correlation of the coefficients of variation (CV) for 3554 phenotypes from the two data pre-processing methods was 0.64, indicating a reasonable agreement between the two procedures. In general, the Affy-normalized data had higher variation. There was high correlation between the two normalization methods (r = 0.97) for the 45 phenotypes selected for linkage analyses based on heritability (data not shown).
We compared the total number of LOD scores greater than 3.0 across the genome for each normalization method and found that: 1) the data from the dChip method led to twice as many positions with "strong" linkage evidence compared to the data from Affy, and 2) of the strong linkage findings, 49% were identified by both methods. The remaining findings between the two methods were discordant. For example, analysis of the activating transcription factor phenotype (205446_s_at) yielded 14 strong linkage signals (LOD > 3.0) across multiple chromosomes using the dChip method, but none were found using the Affy normalized method.
We compared the LOD differences between the two data processing methods. We observed that 25 expression phenotypes had LOD score differences < 3.0 across the entire genome (Fig.
1A
shows 2 of those 25), and 20 expression phenotypes had LOD differences > 3.0 in about 25% of the entire genome (Fig.
1B
shows 2 of those 20). Three of these 20 (208151_s_at, 320_at, 65588_at) had most of the LOD difference > 3.0 on one chromosome (chromosomes 22, 6, 20, respectively), and 17 of the 20 had LOD difference > 3.0 distributed over multiple chromosomes. We observed no correlation between the difference in the LOD scores between the two normalization methods and their polygenic heritabilities (data not shown).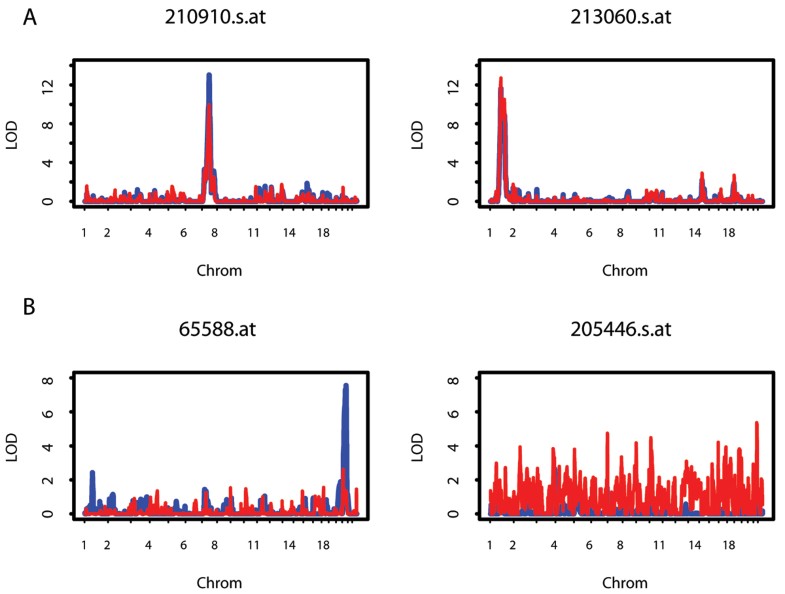 Table
1
shows the results between the two normalization methods we used and Morley's using a criterion of
p
< 10
-8
for significance with either normalization approach. Morley et al. used the Affy normalization method and their multipoint genome-wide linkage analysis was done using SIBPAL in S.A.G.E. [
2
] in which they used a sib-pair-based regression approach rather than variance-components methodology. Three of our seven strongest linkage signals matched those found by Morley et al.; four did not. For the remaining eight phenotypes identified by Morley et al., we were unable to compare the results because the specific expression phenotypes were not part of our final 45 selected phenotypes. Finally, we showed agreement in linkage signals between the Affy and dChip normalizations with seven expression phenotypes, and one disagreement (208151.x.at).
Table 1
Expression phenotypes with the strongest agreement and evidence of linkage for the two normalization procedures
Affymetrix

dChip

Genea

Locationb

Probe

Morley et al. p-value

LOD

p-value

Position (cM)

LOD

p-value

Position (cM)

CHI3L2

1p13.3

213060.s.at

10-10

11.6

<10-12

111.8

12.7

<10-13

111.9

ZP3

7q11.23

210910.at

<10-9

13

<10-14

75.6

9.9

<10-11

75.1

PSPH

7p15.2

205048.s.at

<10-10

6.1

<10-7

64.3

7.7

<10-8

64.3

UGT2B17

4q13

207245.at

---c

8.3

<10-9

62.3

9.6

<10-10

62.3

LRAP

5q15

219759.at

---

8.1

<10-9

99

7.6

<10-8

90.2

HLA-DQB1

6p21.3

209480.at

---

9

<10-10

36

12

<10-13

32.9

HLA-DPB1

6p21.3

201137.s.at

---

8.8

<10-10

31.6

8.7

<10-9

31.6

DDX17

22q13

208151.x.at

<10-9

5.9

<10-7

43.5

1.2

<10-2

43.2

IL16

15q26.3

209827.at

<10-9

---c

---

---

---

---

---

ALG6

1p31

219649.at

<10-9

---

---

---

---

---

---

ICAP-1A

2p25

-

<10-11

---

---

---

---

---

---

HOMER1

5q14.2

213793.at

<10-10

---

---

---

---

---

---

HSD17B12

11p11.2

217974.at

<10-10

---

---

---

---

---

---

TM7SF3

12q11-12

217869.at

<10-11

---

---

---

---

---

---

TNFRSF11A

18q22.1

207037.at

<10-9

---

---

---

---

---

---

CBR1

21q22.13

209213.at

<10-10

---

---

---

---

---

---

DSCR2

21q22.3

203405.at

<10-10

---

---

---

---

---

---
Discussion
As reported recently by Chesler et al., normalization plays an important part in linkage analysis [4]. Our results indicate that the dChip normalization might inflate the LOD scores because here it yielded greater LOD scores than the Affy, and produced, on average, more evidence of linkage than the Affy despite the fact that the data from two normalizations were highly correlated. We also found that the difference in LOD scores between the normalizations was not correlated with their heritabilities. We also investigated the similarity between our linkage results and Morley et al. [2], and found agreement with three out of seven expression phenotypes that we considered.
Conclusion
It remains unclear which pre-processing method for microarray data is the most appropriate to use for linkage analysis. The two procedures we assessed (Affy and dChip) were similar in most respects; however, in 16 of the 45 phenotypes, we observed a large difference between the two methods for at least one chromosome. Thus, further work is needed to examine the influence of data preparation and phenotype normalization methods on results of linkage analyses.
Declarations
Acknowledgements
This research was partially funded by NIH grants R01HL71917 and CA94919.
This article has been published as part of BMC Proceedings Volume 1 Supplement 1, 2007: Genetic Analysis Workshop 15: Gene Expression Analysis and Approaches to Detecting Multiple Functional Loci. The full contents of the supplement are available online at http://www.biomedcentral.com/1753-6561/1?issue=S1.
Authors' Affiliations
(1)
Division of Biostatistics, Mayo Clinic College of Medicine, Rochester, USA
(2)
Division of Epidemiology, Mayo Clinic College of Medicine, Rochester, USA
Copyright
© de Andrade et al; licensee BioMed Central Ltd. 2007
This article is published under license to BioMed Central Ltd. This is an open access article distributed under the terms of the Creative Commons Attribution License (http://creativecommons.org/licenses/by/2.0), which permits unrestricted use, distribution, and reproduction in any medium, provided the original work is properly cited.